Adult Discipleship Gatherings currently have offerings in three locations (one on the 1st floor and two on the 2nd floor).

Students meet in the Student Center.

Children and nursery classes are in the Kids' Wing.

Click on the button below for more information. This information is also available on the app when you click the Sunday graphic from the home page and then Sunday Morning Classes.
Vision Check: where are we and where are we headed?
This Sunday morning we pause, and reflect, on the journey God has given us as the Highland Oaks Church. Pat and two shepherds will explore our vision for loving, growing, and sending through the lens of Covid, the current realities of our church family, and a picture of the future. Join us as we look into our current vision and see the hopeful future for deeper discipleship.
Children's activity sheets are available each week inside of Door K.
August 1 - Final Indoor Summer Kids' Praise
Worship for kids ages 3 thru 5th grade
Our final summer Kids' Praise is on August 1 in Kids' Town until we resume a weekly schedule after Labor Day.

Children's activity sheets are available each week inside of Door K.

Bible class and Nursery are also available.

Please check the HOCC Kids' Newsletter for more information.
July Love First Challenge
Walmart Gift Cards for School Supplies
Let's show love to the families we serve in Caring and Sharing as they begin another school year. More and more, classroom teachers are very specific about the school supplies they recommend for their students.

So, this year, Caring and Sharing wants to provide a $50 Walmart Gift Card for each of the 130 school-age children we serve, so that their parents can purchase the school supplies they need.

To participate in this Love Challenge, in addition to your regular contribution, donate a $50 gift card or make a designated donation to Highland Oaks Church, with Caring and Sharing in the tag line.

Thank you for providing Hope for Lake Highlands!
NewLife Behavior International
Update and upcoming Missions Dinner
Here's an encouraging update on what the Lord has been doing through NewLife Behavior International. Volunteer trainers collectively have taught 250,000 people in 30 countries over the past 13 years. We know of 214 churches that have been planted and more than 10,000 have been baptized into Christ.

With the help from trainers, Mike Biggers, President of NLBI, will be providing more in-depth testimonies at a Missions Dinner on August 26th, 2021.

If you're interested, please register below at NLBI.net/dinner.
Taste of Northeast Community Event at Highland Oaks
Northeast Volunteer Recognition Ceremony & Taste of Northeast
Thursday, August 12, 2021
5:30 pm - 6:30 pm - Food Tasting & Viewing of Tables (25 restaurants)
6:30 pm - 7:30 pm - Guest Speaker and Presentation of Awards
Guest Speaker is Dallas Police Chief Eddie Garcia
Presented by Dallas Police Department and Lake Highlands Public Improvement District
The annual Northeast Division Volunteer Recognition & Taste of Northeast event is taking place at Highland Oaks on Thursday, August 12. What a great event this has been over the years! We anticipate having at least 25 restaurants again this year from around Northeast Dallas, who will provide samples of their fabulous cuisine, while we celebrate various Volunteer winners in the Northeast Division. The menu will include, but not limited to: Northeast Division famous fried fish, all kinds of pasta, awesome seafood, Texas barbeque, fajitas, comfort food, and great desserts.

Please RSVP below by August 5.
August 1 - Pool Party at the Finley's in Rowlett
(Rescheduled from July 31st)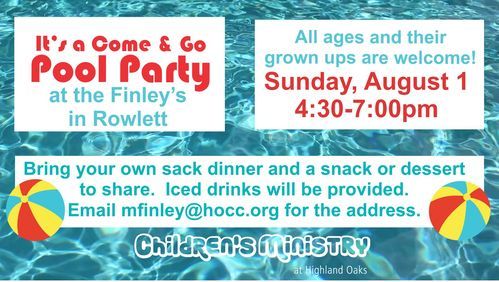 Children's Ministry Family Event
All ages and their grown ups are welcome to a come and go Pool Party at the Finley's home in Rowlett on Sunday, August 1, from 4:30pm to 7:00 pm.

Bring your own sack dinner and a snack or dessert to share. Iced drinks will be provided.

Email mfinley@hocc.org for the address.
August 15 - Bridge Blessing
Children's Ministry and Student Ministry Event
This is a special day for those entering 6th grade. They will attend class at the stage area of Kids' Town on August 8th and 15th with Marla Finley and Kevin Harrington-Bain to assist with this important transition from the Children's Ministry into the Student Ministry. On August 15th your child will receive a personalized blessing and a gift in their class and then they will be prayed over from your seats during worship. Please let us know asap that your child will be participating.
August 22 - Promotion Sunday
This is the day our children will advance to the next Bible class.
Those who are:
entering 1st grade move to the 1st/2nd grade classroom.
entering 3rd grade move to the Bridge classroom.
entering 6th grade will have their first class in the Student Building.
attending the Nursery class will remain there for continuity.
Feel free to ask any questions or let us know if your child will be repeating a grade.
Here is our official calendar and summer theme. This will give you all the dates and times for everything we're doing this summer. And as you may guess: it's a lot.

There's never been a better time to jump into HOSM with both feet, and we hope you'll join us for everything you possibly can this summer!