First Come, First Serve - while vaccine supply available
We have an exciting opportunity to announce. Beginning THIS Sunday, we will be offering FIRST doses of the Covid-19 vaccine in our building. We are partnering with a local pharmacy and the first dose of the Moderna vaccination will be administered to any who would like to receive it. Beginning the following week, Sunday April 18, we will open the opportunity up to our community and begin the mission of vaccinating as many as possible. What a tremendous opportunity!
Important Things to Note:
The vaccine will be administered by pharmacists and RN's from the Highland Oaks family.
The vaccine is ONLY for those 18 and older.
The Moderna vaccine is the ONLY one offered at this time.
For this Sunday, the vaccine will be administered from 9:00 am - 1:00 pm on a first come, first serve basis.
You are welcome to invite friends and family to come with you.
Second doses will be administered 28 days later on Sunday, May 9th.
What to Bring:
You MUST have your TX Driver's License, a US Government issued ID or Social Security Card.
If you have insurance, please bring your card. If not, you WILL still receive the vaccine.
Where to Go:
You will check in at the entrance closest to the playground (Entrance I).
The shot will be administered in the Kids Town area.
You will then wait for 15 minutes in the hallway.
You will exit through Entrance H.
*Volunteers will be present to assist you.
PLEASE take advantage of this opportunity. It is vital to your health and to the prevention of the spread of Covid-19. We look forward to serving you and serving our community!
(for kids ages 3 through 5th grade)
We invite children to join us for a time of Outdoor Kids' Praise (formerly called Preschool Praise) on weather permitting days. During worship, children and student volunteers will be dismissed through Door K by the baptistery for a fun, active worship for children ages 3 through 5th grade. Masks are required during transitions. If it's your child's first time, please accompany them until they are settled and make sure we have your cell number.

Also, children's activity sheets are available each week inside of Door K for following along with the worship.
New sermon series begins April 11
Shalach: Holding Onto God's Outstretched Hand
Shalach. Though this word is unfamiliar to the English language, it is pregnant with meaning for the people of God. In the Exodus story, Israel has been enslaved and mistreated; they are crying out for relief and rescue. And, as the story goes, God appears to Moses and commissions him to "bring them out of Egypt." But how God acts is critical. God "shalach" or stretches out a hand to demonstrate the ultimate power of mission and deliverance. Join us as we explore this grand narrative and take note of the mighty actions of our God who will "shalach" for the sake of us-in our world and time. God, mighty with power and mission, stretches out a hand to people who are in need of relief and rescue.
Sermon April 11 - Shalach: Stretching Out and Holding On
This Sunday morning we explore a critical moment in the life of Israel- they are enslaved and in need. And there is nothing Israel can do to help themselves. So God intervenes, appears in a bush to Moses, and promises an outstretched hand. Join us as we meet with Moses in the wilderness to see the mighty hand of God. (Exodus 3)
Pray PNH - 14 days of Prayer
Join us in Prayer april 12 thru april 26
As disciples of Jesus, we always want to be mindful of and hope for his kingdom to be made manifest on earth, for the peace and love of God to be made a reality for every person and all creation. We can do this in a number of ways, but from April 12th to the 26th we invite you to pray for the Cambodian people, our Highland Oaks community, and, indeed, your very self. Not only will you learn about and pray for the people of Cambodia, who celebrate their New Year from the 14th to the 16th, but we'll also reflect and pray for Highland Oaks and our own discipleship journey. Throughout this time, it is our hope that we recognize the similarities between us and the Cambodian people, as well as the ways we all need the transformative power of Jesus Christ in our lives.

Each day will have a prayer, followed by scripture, then some meditative prompts on what you just read, time for you to ask God for something specific, and then finally an action for that day. Please consider joining Kyle Hooper and Joshua Tracy as they embark on these two weeks of prayer.
hOSM - senior Sunday is april 25, 2021
Blessing during worship service and afterwards via drive-thru in parking lot.
Each year we, as a church family, rally around our high school graduates and their families to honor and celebrate their achievement in reaching this new life stage. Please join us for worship on April 25th, 2021 as we bless these graduates.

After worship, please plan to participate in our drive-thru blessing in the parking lot outside door K. You'll have the opportunity to drop off gifts and notes for our seniors, as well as getting to chat with them to get to know them better.

This drive-thru was an adaptation we made for Covid-19 last year, but it was such a blessing to all involved that we're keeping the tradition alive this year. We look forward to seeing you there to bless our seniors!
Download or print your 2020 Giving Records
2020 giving statements are ready for you to download or print. Please select the graphic to left or the button below to take you to our give page. Scroll down to the "Accessing Your Giving Records" section. There you will find instructions on how to get your statement. If you do not have a Breeze account, please email lmoore@hocc.org. If you have questions about your statement, please contact Sharon McIlroy (smcilroy@hocc.org) or David Underwood (dunderwood@hocc.org).
Support Highland Oaks church via amazon Smile while you shop
Did you know ......that purchases you make on Amazon can help the work at Highland Oaks? All you have to do is register for an Amazon Smile account.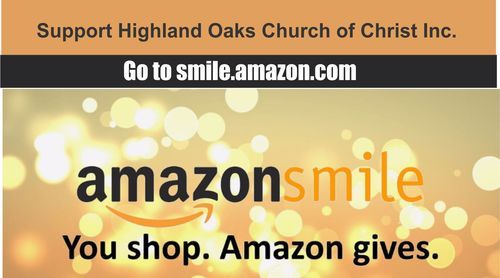 AmazonSmile is a simple and automatic way for you to support HOCC every time you shop, at no cost to you. When you shop at smile.amazon.com, you'll find the exact same low prices, vast selection and convenient shopping experience as Amazon.com, with the added bonus that Amazon will donate a portion of the purchase price to HOCC. So do your shopping at smile.amazon.com, and you will be donating to Highland Oaks simultaneously.
You can use the same account on Amazon.com and AmazonSmile. Your shopping cart, Wish List, wedding or baby registry, and other account settings are also the same. The AmazonSmile Foundation will donate 0.5% of the purchase price from your eligible AmazonSmile purchases. The purchase price is the amount paid for the item minus any rebates and excluding shipping & handling, gift-wrapping fees, taxes, or service charges. Click HERE or on the graphic ABOVE to begin donating to HOCC.