February is Mission Month and online contributions/pledges may be made from now through the end of the month. If you prefer to give in person, we will have a drive through contribution on Sunday, February 28 at Highland Oaks. The Mission Ministry depends on consistent financial offering to fulfill our call to love, grow, and send disciples, not only within our own community but throughout the world as well.
Your mission offerings go directly to fund our mission efforts in Asia, both through the discipling work of Mark Hooper and Missions Resource Network, and Kyle, Rebecca, Emma Skye, and Korban Hooper in Phnom Penh, Cambodia. Additionally, your financial gifts and commitments support Pilgrimages and pilgrimage cohorts, further enriching our vision of loving, growing, and sending disciples. **Please note that the amount you contribute/pledge is in addition to and does not replace your regular financial gift to Highland Oaks. These funds will be designated to our mission efforts in Asia, as well as here in our own community.
Love First 2021 - February Challenge - Stock the Shelves
Please show your love to Caring and Sharing and the people we serve during the month of February by donating these much-needed items. You can leave them in the drop box at the back of Caring and Sharing (emptied daily).
FOOD PANTRY ITEMS NEEDED
Spam
Vienna Sausage
Canned ham
Canned salmon
(boxed) Breakfast Cereal (best price – Aldi's)
Laundry detergent (Ajax $1.00 Walmart)
Shampoo/conditioner (VO5 $0.88 Walmart)
Deodorant
Toilet paper
Take a photo and tag #hocclove1st on social media throughout February.
Season of Lent 2021 Devotional Readings
Join us every day of Lent for a new devotional. Each offering includes a time of centering/breathing, scripture readings from both the Old and New Testaments, as well as a prayer based on the day's theme. Each day includes an audio podcast of the readings, as well as a downloadable PDF to follow along, or read on your own time at your own speed. Click on the graphic or button below.
If you would like to receive notification with links of each day's reading on the HOCC App:
- Select the 3 bars in the upper left of the app homepage
- Select Settings
- Select Notifications
- Then make sure the button for "General" is green
How can I access these Daily Readings?
The Daily Lenten Readings will be available via our website and app.

To access from the website:
- Select the graphic on the home page or
- Select the Daily Lenten Readings submenu in Media

To access from the App:
- Select the Media graphic on the app homepage
- Select Lenten Readings in the list
As we continue with our sending spotlight, February brings us one of our faithful disciples here at Highland Oaks. He has been a member here for several decades, worked with the Dallas area transit authority, and is a frequent guest to all things Disney World. But what makes this guest so special is his ability to embody sending as someone who is "retired" but still very much on mission with God. Join us as we hear from this special servant of God and let's learn how we might be sent into the world as well. Click on the graphic to left to listen to the February Spotlight audio.
Many times, we want to get to Jesus's teachings found in the Sermon on the Mount. We want answers to questions, such as "what is the kingdom of God like?" or "what did Jesus come here to do?" But, Jesus starts his most famous sermon not with answers to questions but with characteristics of what it means to be a disciple. So, join us as Pat Bills, Lead Minister at Highland Oaks, walks us through the first few words of the Sermon on the Mount, where he does not tell us what to do but invites us into a new way of being and identity.

Click on graphic to watch and listen to our latest Adult Bible class.
New Sermon Series Coming sunday, March 7th
Lenten Reminders of our Humanity
One of my favorite games as a kid was "hide and seek." It was a great way to learn how to hide from whoever was sent to find you. But as disciples, we often play this dangerous game with the God who seeks us. As we prepare our hearts for Easter, we first lean into our sinful humanity by travelling back to the garden and exploring the choices made by the first humans. Join us as we learn the painful realities of our humanness and acknowledge our need to be found.
Download or print your 2020 Giving Records
2020 giving statements are ready for you to download or print. Please select the graphic to left or the button below to take you to our give page. Scroll down to the "Accessing Your Giving Records" section. There you will find instructions on how to get your statement. If you do not have a Breeze account, please email lmoore@hocc.org. If you have questions about your statement, please contact Sharon McIlroy (smcilroy@hocc.org) or David Underwood (dunderwood@hocc.org).
Support Highland Oaks church via amazon Smile while you shop
Did you know ......that purchases you make on Amazon can help the work at Highland Oaks? All you have to do is register for an Amazon Smile account.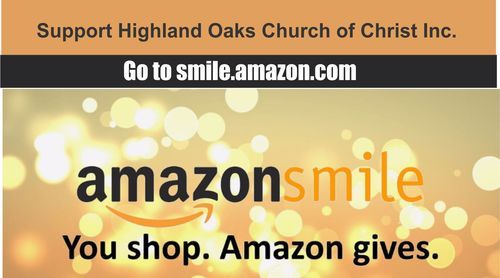 AmazonSmile is a simple and automatic way for you to support HOCC every time you shop, at no cost to you. When you shop at smile.amazon.com, you'll find the exact same low prices, vast selection and convenient shopping experience as Amazon.com, with the added bonus that Amazon will donate a portion of the purchase price to HOCC. So do your shopping at smile.amazon.com, and you will be donating to Highland Oaks simultaneously.
You can use the same account on Amazon.com and AmazonSmile. Your shopping cart, Wish List, wedding or baby registry, and other account settings are also the same. The AmazonSmile Foundation will donate 0.5% of the purchase price from your eligible AmazonSmile purchases. The purchase price is the amount paid for the item minus any rebates and excluding shipping & handling, gift-wrapping fees, taxes, or service charges. Click HERE or on the graphic ABOVE to begin donating to HOCC.